Services:
Outdoor Cooling Dubai
HydroCool.co Misting & Outdoor Cooling Solutions are extremely versatile. Outdoor cooling Dubai, Abu Dhabi and Gulf area have always been a challenge. With the evaporative cooling of mist using Hydro high pressure misting and the convective cooling of wind, our systems can cool the air up to 15 degrees.

You can use large industrial portable cooler units for warehouse cooling or outdoor events, or you can select a smaller mobile misting fan that fits in the trunk of your car for sporting events. HydroCool.co has a solution for whatever your portable cooling needs may be.

HydroCool.co Outdoor Heaters & Patio Heaters. Get more use out of your deck or patio by investing in an outdoor heater, which uses radiant heat to keep your space warm. Some models are electric, and propane or natural gas power others. Depending on the size of your outdoor living area, you can choose a full-size standing heater or a smaller tabletop or ceiling- or wall-mount version.

Industrial Air Coolers, Outdoor Coolers, and Portacool portable air coolers. Enjoy more conferrable outdoor space by Buying our air cooler Dubai, which uses water pads and fans Evaporative cooling to keep your space cool. Some models are for home and commercial use, and others for industrial applications. Depending on the size of your outdoor area, you can choose the perfect air cooler for Dubai weather.

Misting fans is a perfect solution for mist cooling applications. A 30″ diameter outdoor cooling fan makes an idea setup for dust and odor control applications. The Mist Fans already proved to be more useful than conventional methods such as evaporative coolers, swamp coolers, and a steam line for cooling open-air like a terrace, green house, waiting line, or even a warehouse.

Our evaporative air coolers are today one of the solutions most innovative and effective cooling solution for home, restaurant, factory,and many other sectors.it can be used for indoor and outdoor cooling.
Patented 360 misting furniture

by 360mistfan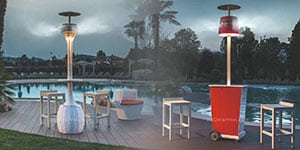 Products:
Outdoor Heaters An Outdoor heater or umbrella heater is a...

+

-

Large evaporative Industrial air Cooler HYD-41000HYD-41000It is a heavy...

+

-

Best Air coolers in Dubai We at offer a wide...

+

-

HYD-22 air coolerTEC-22 air cooler is a heavy duty,...

+

-

Misting fan HC10NPortable patio misting fan equipped with hydro...

+

-

Disc misting fan HC10CPortable disc misting fan equipped with...

+

-

MHD7200 industrial misting fansIndustrial misting fans,heavy duty, and powerful....

+

-

HYD-8000 air coolerIt is a heavy duty industrial outdoor portable...

+

-

Mushroom Gas Heater Material: stainless steel/ Bronze powder coated steel. Total...

+

-

Wall Mounted Electric Halogen HeaterStylish High quality design with...

+

-

Floor Standing Electric Halogen Patio HeaterSlim and stylish durable...

+

-

Electric Halogen Heater, Floor standing adjustableStylish design with aluminum...

+

-

Triangle Quartz Tube Patio Heater (NEW) Powder stainless steel body. Gas...

+

-

portable air conditioner An evaporative cooler (also swamp cooler,...

+

-

Back to Top